Daniel has been matched with a family! He has decided to keep his profile public to inspire other youth to make In Depth Profiles of their own!
Daniel is the kind of guy who makes others feel at ease. He makes others feel welcome. When he's asked what he wants others to know about him, Daniel says, "I'm very helpful, active and smart." Daniel has big goals for his future, which starts with finding a job when he's older. His ideas right now? Maybe a construction worker to start. His dreams include traveling to California and becoming a member of his school's basketball team. Daniel loves sports. Basketball is his favorite, but he also enjoys football. When his list of favorites moves to food, it's an easy choice: macaroni and cheese and pepperoni pizza. His favorite color is blue and his favorite animal is the snow leopard. Daniel loves spending quality time with friends and family, particularly around celebrating birthdays (including his own!) and holidays.
Daniel said "yes" to the opportunity to create his own In-Depth Profile. He brainstormed ideas for how he wanted to share with potential adoptive families and then went about making them happen. He wanted to focus on three passions he has: being an athlete, making art, and music. His video includes all of these things, just how he wanted to curate them. You can see his fingerprints and creativity all over his In-Depth Profile!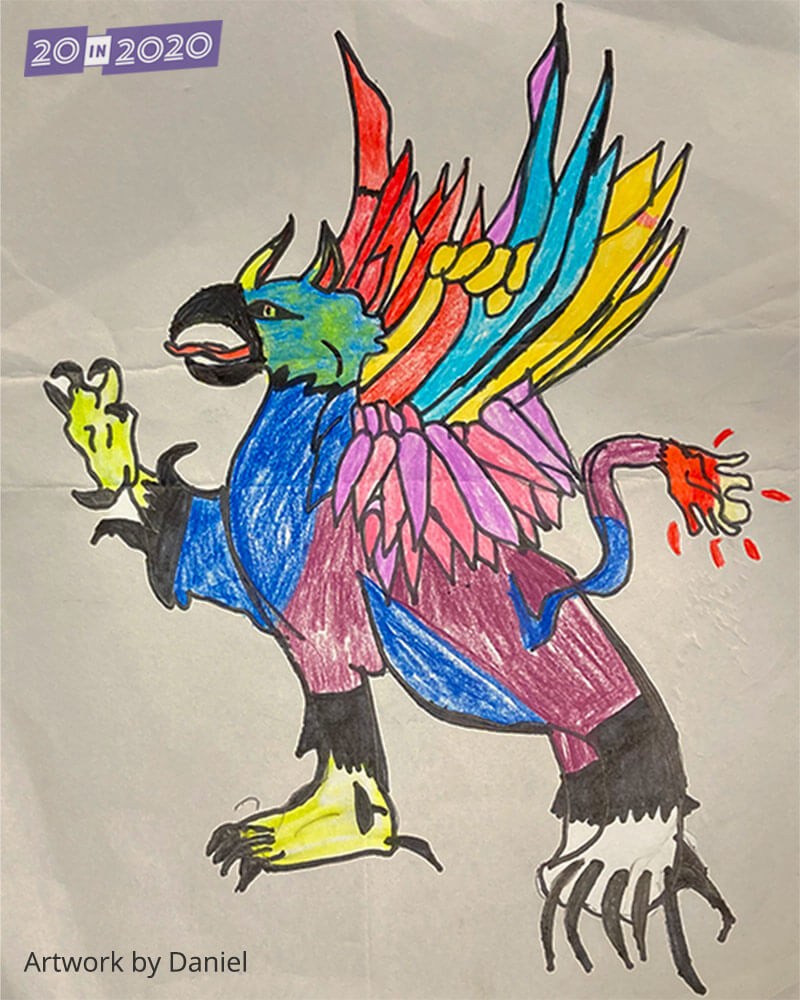 Daniel loves to draw, so he created an original art piece to include on his In-Depth Profile.
It can take Daniel time to get comfortable with new people. But once he does, "Daniel is very kind, thoughtful, fun and sometimes goofy," says one of his workers. Daniel thrives on consistency and positive support in his life and will do best with an adoptive family who can prioritize quality time together.
Daniel created his own playlist as a part of his In-Depth Profile, so he could share his favorite music right now with potential families.