Zandra (or "Z", as she often goes by) is an athlete at heart. She loves being active and playing sports and really hopes to share her passion with a future family. Basketball is a clear favorite, although she has also enjoyed soccer, swimming, and field hockey as well. She taught herself basketball at age 9 and has continually worked on her skills. She points to professional players like Stephen Curry, Lebron James, Kyrie Irving, and Kevin Durant as inspirations (and her crossover dribble, demonstrated below, has a lot of similarities with them!).
Writing is also very important to Zandra. For the past year or two, she has begun writing her own poetry, as a way to express herself. "It lets me write down all of my feelings and lets stuff get out and lets all of my feelings get onto a piece of paper," she says. Zandra was quick to point to her poetry as something she wanted to include in her In-Depth Profile. On the experience of sharing it through this project, she says: "I felt good about myself, that I could actually share it with other people. I didn't keep it a secret and maybe it could inspire someone else."
Zandra is at home on the basketball court and she had some pointers she wanted to give potential adoptive families!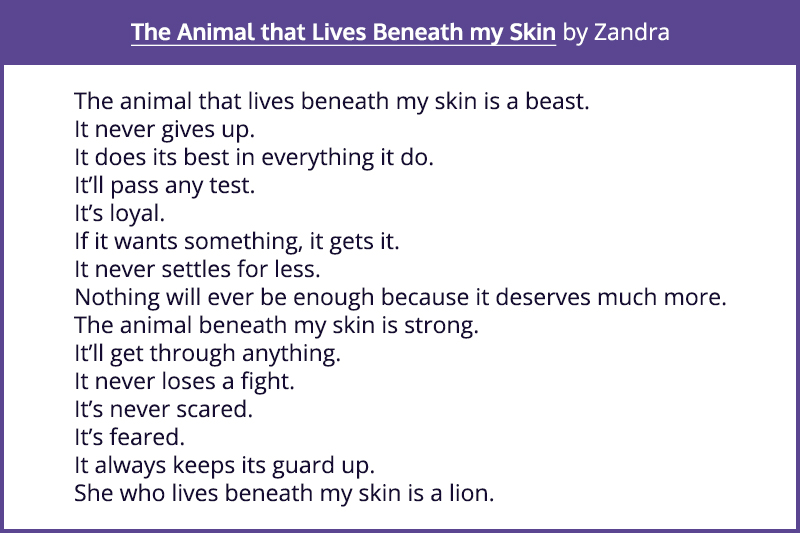 When it's time for Zandra to take a breather, she'll study her favorite subject, math, because in her words, "you use it for a lot of things." Or she'll munch on her favorite food items such as burgers and chicken. When she wants to mellow out, Zandra enjoys playing video games and watching TV. This girl's "Z" to "A" interests spread to so many other things as well, such as going to the mall, the movies, or going camping outside. Most of all, she's looking for a family who will support her passion for sports and staying active.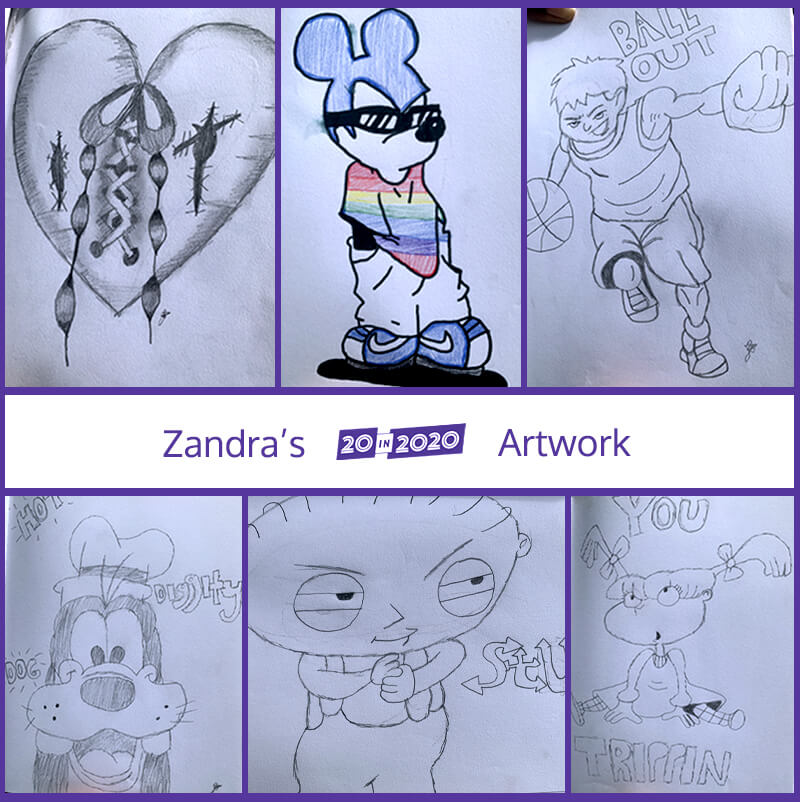 Zandra wanted to include some of her recent drawings and sketches.
Those who know Zandra best know her to be warm and thoughtful, who opens up more once she gets to know others. "She has a bright smile that warms anyone's heart," says Zandra's worker, who adds that Zandra does well in school and makes friends quickly.
Zandra is looking for an adoptive family, ideally made up of a mom and dad or a single mom. The best family fit will be one who is excited to spend time with her, get to know her, and support her as she grows up during her teenage years. Zandra is open to having siblings in an adoptive family as well. If you think you might be a fit with Zandra, we want to hear from you! We are committed to finding this awesome teenager the adoptive family she deserves.