Madysun shares her heart about adoption though a compelling spoken word piece that she wrote!
Madysun's "Placement Pending" status reflects a recent change, in which a family has been potentially identified. At this time, families may still inquire here, through Madysun's In-Depth Profile, and a Michigan Adoption Resource Exchange (MARE) staff member will reach out, usually within a couple of days, to let you know the next steps.
Life could be c'est magnifique for Madysun if she had a forever family to share her interests. One of those interests is visiting France one day. Madysun wants to travel to Paris to fulfill a promise to herself.
"I have always wanted to go to France," she says. "It just intrigues me."
If she could click her heels together and make a couple more wishes, Madysun would want world peace and the ability to go back in time. She'd likely go visit a monumental moment in history, which just happens to be Madysun's favorite subject in school.
If Madysun had a fourth wish, it'd likely go toward exploring the ocean in a glass-bottomed boat. "I love all underwater animals," she says. Madysun's other top interests include listening to music, playing video games, watching movies and playing Monopoly and other board games.
She loves drinking tea and eating sub sandwiches and Chinese food. Madysun admits to enjoying a good nap after school and sleeping in on weekends. After she's refreshed, she might help around the house, which is another one of her favorite activities. Doing those kinds of activities would make life with a forever family magnificent for Madysun. She hopes to find one who shares her desire "to do normal family things."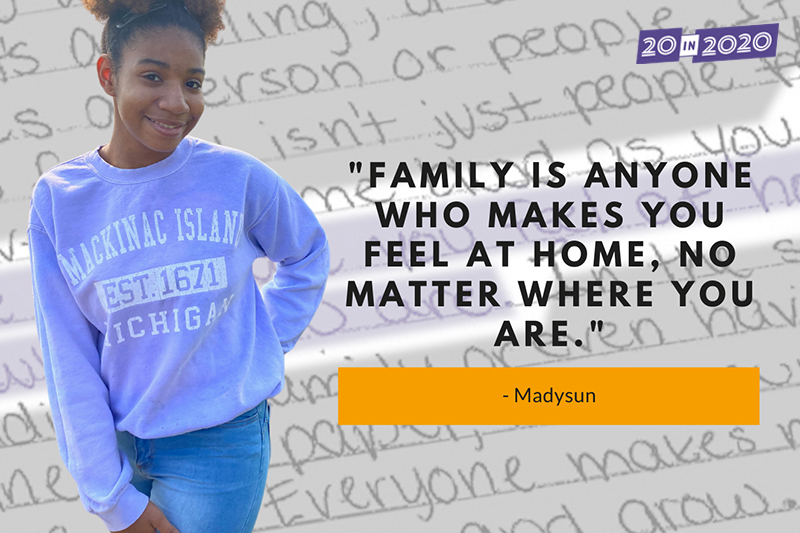 Madysun knows its not just blood that binds people together.
According to one of the people who knows her best, "Madysun is smart and wants to develop close relationships with adults. Madysun is very relatable, friendly and has a great sense of humor." When asked to describe herself, Madysun says, "I am smart and have a very outgoing personality."
Madysun would do well with a single female parent or two parents who are experienced and trauma trained. Her new family should be open to letting Madysun maintain appropriate relationships in her life.