We got creative to ensure Nehemiah could share his love of basketball!
If basketball is the topic, Nehemiah has a lot to say. If shooting hoops is the activity, you'll find him on the court - hoisting jumpers and having fun. He loves many sports, as well as any chance to get on his feet and be active. Comic books and superheroes are another favorite. He's a good reader and can just as easily settle into a book (comic or not!). Adults who know him well add that his sense of humor stands out. Nehemiah's a teen who likes making others laugh.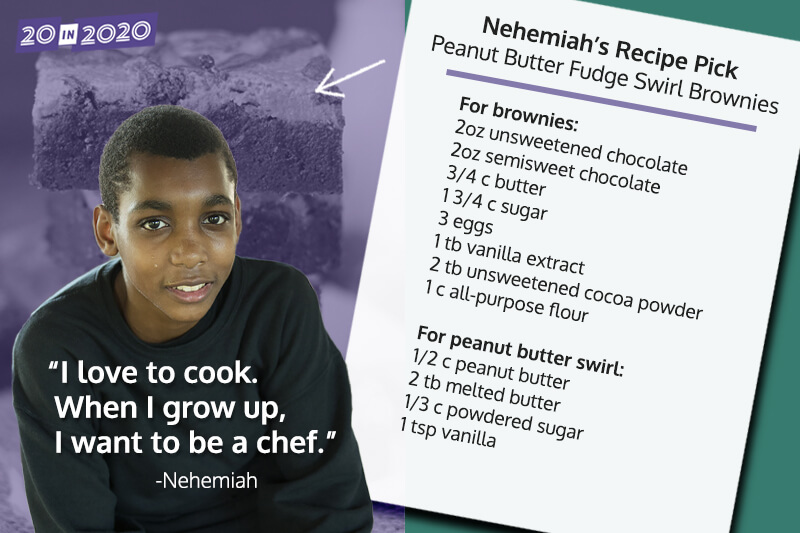 When the conversation turns to food and the culinary world, Nehemiah still feels right at home. He's a teen with big dreams for his future - one is to attend a four-year college or a culinary school when he gets older and become a chef. He'll be happy being his own taste tester too, because (according to a close adult) "he loves to eat!" His dream goes beyond just food though. He's quick to point out that the people he'd serve are just as important: "I'll care about the people who come into my restaurant."
Nehemiah had an entire page full of things he wanted to share on his In-Depth Profile AND he was gracious enough to read it for families.
Nehemiah wants to be engaged and involved in the search for an adoptive family. He wanted to create an In-Depth Profile and take the opportunity to express himself and share directly with potential families. Throughout the creation process, he was open and honest an came with his own ideas for how it might look. Even amidst a limiting pandemic, Nehemiah persevered and stayed engaged from start-to-finish - choosing photos, reviewing text, creating videos, and ensuring his In-Depth Profile looks the way he desires.
Nehemiah wants to be adopted. When the topic turns towards the qualities he's looking for in a future adoptive family, Nehemiah simply says he wants one who will keep him safe and love him. An ideal family will be in his corner and be strong advocates for him as a student in school, and a growing teenager. Nehemiah also has some existing relationships that are important to him, and an adoptive family will help maintain those throughout his teenage years. If you think you may be a fit for Nehemiah, we want to hear from you! We are committed to finding him the adoptive family he deserves.